2009.07.20 Monday
Japonology @ Royal/T Cafe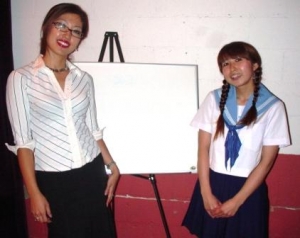 Have you heard of Royal/T cafe in Culver City, Los Angeles?
This art gallery/maid cafe/pop art shop, will be the next "must go" place for those who want to know about mordern Japanese culture!
Every other Thursday evening, Royal/T will be hosting "Japonology@Royal/T", and the opening night July 15th, along with a Japanese sake tasing event, I had a short Japanese language class.
I and my lovely friend Mayumi (she got the high school uniform from Japan, thank you Mayu-chan!) introduced basic Japanese greetings and how to order in Japanese restaurants. We re-created "Japanese classroom environment" with a little bit "cosplay" (costume play) element. Our goal is to have you learn while having lots of fun!!
We will have different themes on each night. For more info, go to www.royal-t.org
Hope to see you there at the next Japonology@Royal/T!!